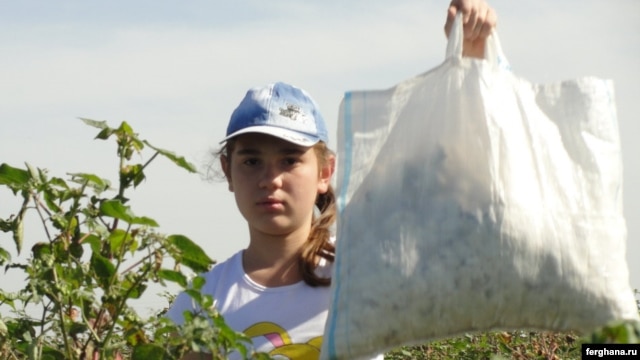 A girl picks cotton in Uzbekistan's Tashkent Province in September 2010. The ILO monitors will be looking for signs of forced or child labor.
It's that time of year again, when the harvest rolls around and authoritarian governments in Central Asia force adults and children to pick cotton despite an international outcry.
By Farruh Yusupov and Farangis Najibullah
September 19, 2013
Uzbekistan is providing an unprecedented look into how its annual cotton harvest is carried out. But while Tashkent's decision to provide access to outside monitors might be intended to show transparency, there are warnings they won't get the full picture.
The International Labor Organization's (ILO) observer mission, aimed at preventing Uzbekistan from employing child labor to bring in its main cash crop, is set to begin this month and run through November.
Once on the ground, the monitors hope to investigate long-standing claims that Tashkent resorts to questionable labor practices at harvest time, including forcing state workers and even children to the fields to pick cotton.
But ahead of the effort, campaigners have criticized plans for Uzbek government officials to accompany the monitors. And several messages received by RFE/RL's Uzbek Service warn that the authorities are taking steps to instruct field workers who encounter observers to hide the truth.
"Students have been told that the international monitors will come with a list of questions," writes Shokhrukh, who identifies himself as a student who is picking cotton in the Dustlik district of Uzbekistan's central Jizzakh Province.
"We were given instructions about how to answer those questions," Shokhrukh writes in a comment sent via the WhatsApp mobile-messaging application. "We have to say we are picking cotton completely voluntarily to help our government, to relentlessly work to help improve our country's economy."
'Never Picked Cotton'
Another message sent to the Uzbek Service alleged that some students had been ordered to provide written statements that they "have never heard of cotton picking."
The sender, who requested anonymity, said his underage brother was currently taking part in the cotton-harvesting campaign in the northeastern Tashkent Province.
"My brother told me that all students were ordered to write a statement that they have never picked cotton in their life — even their elder siblings have never been forced to pick cotton — and that only during the Soviet era had some of their relatives taken part in the cotton harvest," the source wrote.
A similar claim was also made by a male student in a self-shot video received by RFE/RL. The student, who claims to be a resident of the Oltinkul district of the eastern Andijon Province, says he has been instructed by his teachers to say participation in the cotton-picking campaign is purely voluntary.
"We are fulfilling out duties before the country," he says, parroting the message he has been told to spread. "It's our gesture of gratitude to our government, which has provided all the necessary conditions and opportunities for us."
While the messages were clearly sent from Uzbek mobile-phone numbers, RFE/RL was unable to independently verify the claims or the identities of the senders.
Can ILO Get The Facts?
Earlier this month, the Cotton Campaign, an international coalition that seeks to end forced labor in Uzbekistan's cotton industry, said the presence of government officials during the monitoring process "will stifle the dialogue between the citizens of Uzbekistan and ILO monitors."
But overall, Matthew Fischer-Daly, coordinator for the Cotton Campaign, is optimistic about the access given to monitors. "It is true that the ILO [inspectors] do have experience in working in situations where people are coached to say something by the government, or another situation," he says. "Nevertheless, despite all that, the facts on the ground of what's happening in the mobilization [will] get to the ILO."
The ILO intends to deploy eight monitoring teams during its mission to Uzbekistan that will visit all the cotton-producing regions. The organization says the monitoring effort involves cooperation with the Uzbek authorities as well as labor unions.
Uzbekistan is the world's sixth-largest cotton producer. According to media reports, it aims to harvest 3.35 million tons of cotton annually.
Written and reported by Farangis Najibullah, with reporting by RFE/RL's Uzbek Service correspondent Farruh Yusupov
http://www.rferl.org/content/uzbekistan-cotton-child-labor/25111327.html