Uzbeks Toil To Keep Silk Industry's Traditions Alive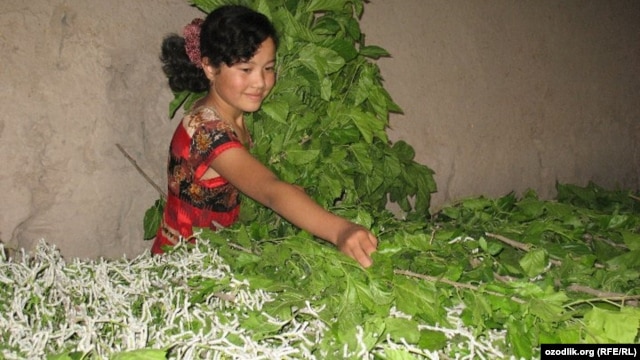 Voracious eaters, a small packet of silkworm larvae can eat about 2 kilograms of mulberry leaves a day and later those same worms can munch up to 270 kilos of fresh leaves daily. (file photo)
By Farangis Najibullah and Sadriddin Ashurov
March 12, 2013
In the heart of the Ferghana Valley, the melting of the winter snows heralds more than the coming of spring — it's the beginning of "cocoon season."
From the end of April to late May, local farmers tend to one of Uzbekistan's proudest industries the old-fashioned way: one silkworm at a time, in the warmth of their own homes.
The spawn of the silk moth are carefully nurtured throughout the difficult larval stage in preparation for the day they will spin themselves their protective and highly valuable cocoons. Then, as they snuggle in to make the transformation from caterpillar to moth, they are boiled alive and their life's labor unraveled to make silk thread.
Uzbekistan's silk-production tradition dates back to ancient times, and is a point of national pride. Today, the sector is strictly controlled by the government, but delivering the annual harvest has a family feel.
"Local authorities hand farmers up to 30-40 grams of tiny silkworms in a small box," explains Sulhiya Azizova, a resident of the village of Chashma in the eastern Ferghana Province.
Those 40 grams can contain thousands of larvae, whose only job is to eat and grow. Newly hatched silkworms are tiny — smaller than a pencil tip — but shed their skins multiple times and eventually expand to about 70 times their original size. By the end of the season, Azizova says, the silkworms have far outgrown their original box and take up three big rooms in her family's four-room home.
Work For The Whole Family
This means that to accommodate their expanding guests, Azizova's family of six has to squeeze into the one remaining room until harvest time. And they must be exemplary hosts, because silkworms are highly sensitive to cold, bright light, and noise, are constantly eating their exclusive diet of mulberry leaves, and are not comfortable living in their own filth.
In the beginning, about 2 kilograms of mulberry leaves a day are needed to feed the tiny silkworms contained in the 40-gram starter packet. At their peak, those same larvae can munch up to 270 kilograms of fresh leaves daily.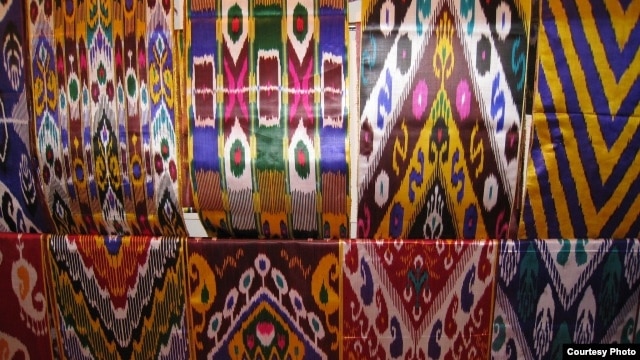 The vividly colored and intricately patterned silk fabric known to Uzbeks as "atlas" is an essential part of the national costume.
Every available hand is needed to care for the silkworms. "Everyone in the family has to pitch in. We feed the caterpillars round-the-clock, and at least one person is constantly awake, taking care of them, like being on duty," Azizova says. "It's very difficult but we have to do this. We have to put the silkworms before ourselves because if they die we have to pay fines."
Children and grandparents do their part by feeding the silkworms and removing the twigs and waste left behind by the voracious larvae. Adults take on the duty of gathering mulberry branches, and they have to move quickly. "You have to be alert all the time, because if the food is 45 minutes late the caterpillars start dying," Azizova says.

At the end of the season, a family can harvest up to 120 kilograms of raw cocoons from their kit. The authorities pay nearly $2 per kilogram, although farmers say they often have to wait months to get paid.
The only guarantee, Azizova says, is that the family will have plenty of mulberry branches to use as firewood.
Demanding More Silk
Some consider silkworm farming a form of forced labor, albeit different from Uzbekistan's well-documented practice of mandating that citizens help bring in the cotton harvest.
One resident of Jizzakh Province, who spoke on condition of anonymity, told RFE/RL's Uzbek Service that participating in the silkworm-growing campaign is a precondition for leasing farmland, or receiving cotton seeds. "I lease 50 hectares of land, and for each hectare I have to nurture 4 kilograms of raw cocoons," the farmer says. "So, I grow 200 kilograms of cocoons each season."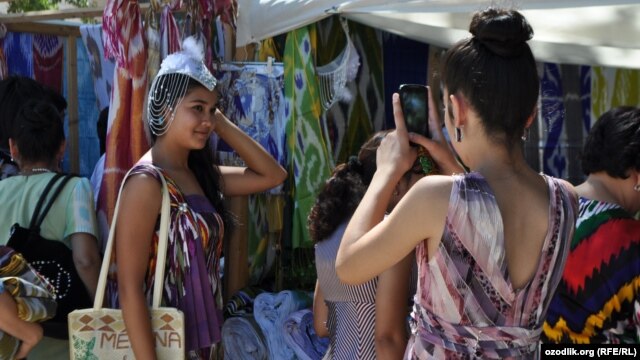 "Atlas" fabric is a must-have for Uzbek women and girls.
Ranking as the world's third-biggest silk producer, Uzbekistan harvests some 25,000 tons of raw cocoons annually. According to Uzbek media reports, about 70 percent of the harvest is exported to Western Europe, South Korea, and China, at prices of up to $30 per kilogram.
The rest is used by the domestic textile industry, primarily for the production of the prized silk fabric known to Uzbeks as "atlas." The vividly colored and intricately patterned material is an essential part of the national costume, is no stranger to contemporary fashion runways, and is a must-have for young and old women alike.
A Burgeoning Industry
Tashkent seems determined to keep the silkworm tradition alive. The country's Agriculture Ministry recently announced plans to import some 12 million mulberry bushes from China to help feed the sector.
According to agricultural experts, the average Uzbek mulberry bush can only produce leaves once per growing season, whereas a stripped Chinese variant can grow another set of leaves within the same season.
This might come as good news to the silkworms, but not necessarily to their minders. The whole process, Chashma resident Azizova says, is exhausting, and the work doesn't stop when the harvest is in. "It takes a lot effort before to get our lives back," she says.
"The caterpillars leave a strong, unpleasant smell in the rooms where they were harvested. It doesn't go away with mere cleanings," Azizova adds. "After the harvest, we keep the doors and windows open for a few days and then refurbish the rooms before moving back."
Written and reported by Farangis Najibullah with additional reporting by RFE/RL's Uzbek Service correspondent Sadriddin Ashurov
http://www.rferl.org/content/uzbekistan-silk-industry/24926469.html